Making Fabric with bbellamy & bbellamy
I'm a real sucker for fabrics — and lampshades. They go hand in hand really, using the fabric to make lampshades. So bbellamy & bbellamy has been on my radar for a while. For years, vicariously only via Facebook. Until last month when I rang the bell of a dingy, almost abandoned-looking store front in Muizenberg, Cape Town. Bolts of fabric resting against peeling walls, scattered cushions on vintage chairs, leaning racks of lawn shirts in vintage fabrics, old picture frames hung too high. Follow a narrow path to the back room to suddenly enter my kind of paradise: hundreds of fabric bolts with the most multicolored patterns, stacked on trestle tables, shelves, window sills, hanging from ladders or strings pinned to the wall.
You see, David Bellamy is an artist, scientist, designer and environmentalist with a visceral passion for life, color, nature and the stories they bring to him every day. The double barrel name is an homage to his dog Clive. The double "bb" is the old English way of capitalising nouns.
Apart from his extensive collection of English fabrics, David is a fabric maker. In his studio, (located in a jungle-like garden), he uses only water soluble, low-toxicity inks on biodegradable base cloths that do not generate landfill or ocean plastic. Patterns have exotic names such as "Table Mountain Sandstone Artesian Water", "African Sparrowhawk", "Water Lilies" or "Orchid Pods". The printing process is entirely manual — one of David's goal being to employ locals as much as he can. Looking closely at the patterns on the fabric I was able to see the hand of the makers and felt a deep, very real connection to them. The yardage I brought home is, for now, resting in my grandmother's armoire until such time as I find a project I deem worthy of the skills of the makers. I feel a strong responsibility to honor their art, protect it, pass it on. In David's own words, "We should be making everything last for as long as possible, every object should have nine lives, so we should always live with old and new things."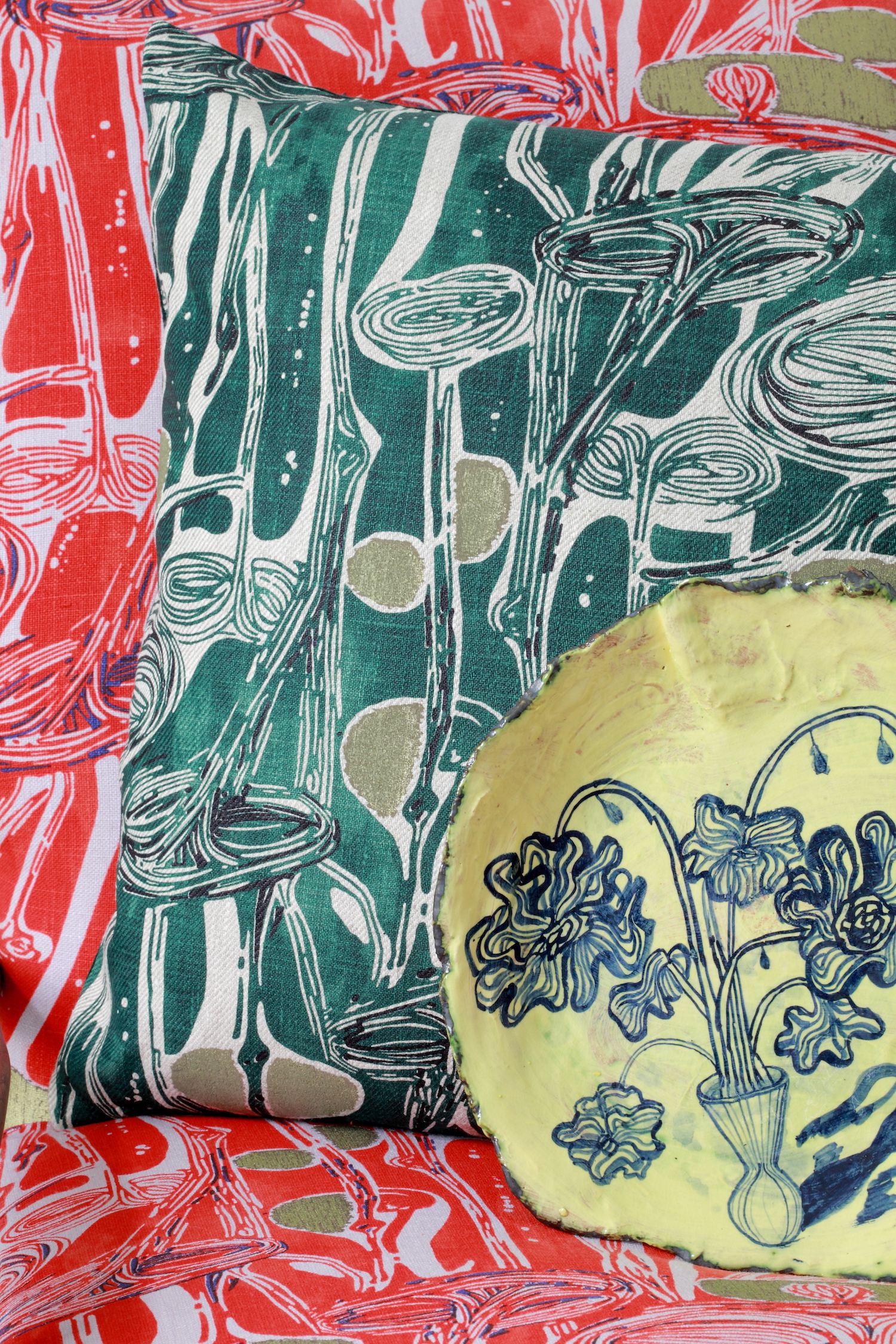 Punky, poignant, tender, raging, redolent, they seem both ancient and modern.
I was particularly interested in the "Water Lilies" pattern. David explained "Waterlilies is the result of our first collaboration, with South African artist Ruan Hoffmann in 2014. Hoffmann is best known for his highly collectible ceramics: painted and glazed slab-ware plates that plot the artist's inner life and his responses to historical events and forces. Punky, poignant, tender, raging, redolent, they seem both ancient and modern."
This video will give you a glimpse in David's approach to his art.