Inspiration?
Exhibition: Handmade in Britain 2018
The festival madness is over, we can walk into town again without being mobbed by crowds and buskers, and it's time to bask in the silence and review what we've seen.
There's really no place better to host a Jewelry Fair in summer than the Royal Botanic Gardens.
The Handmade in Britain exhibition is all about inspiration, and in each and every stall you can see the painstakingly efforts that artists have gone to show us what inspired and motivated them.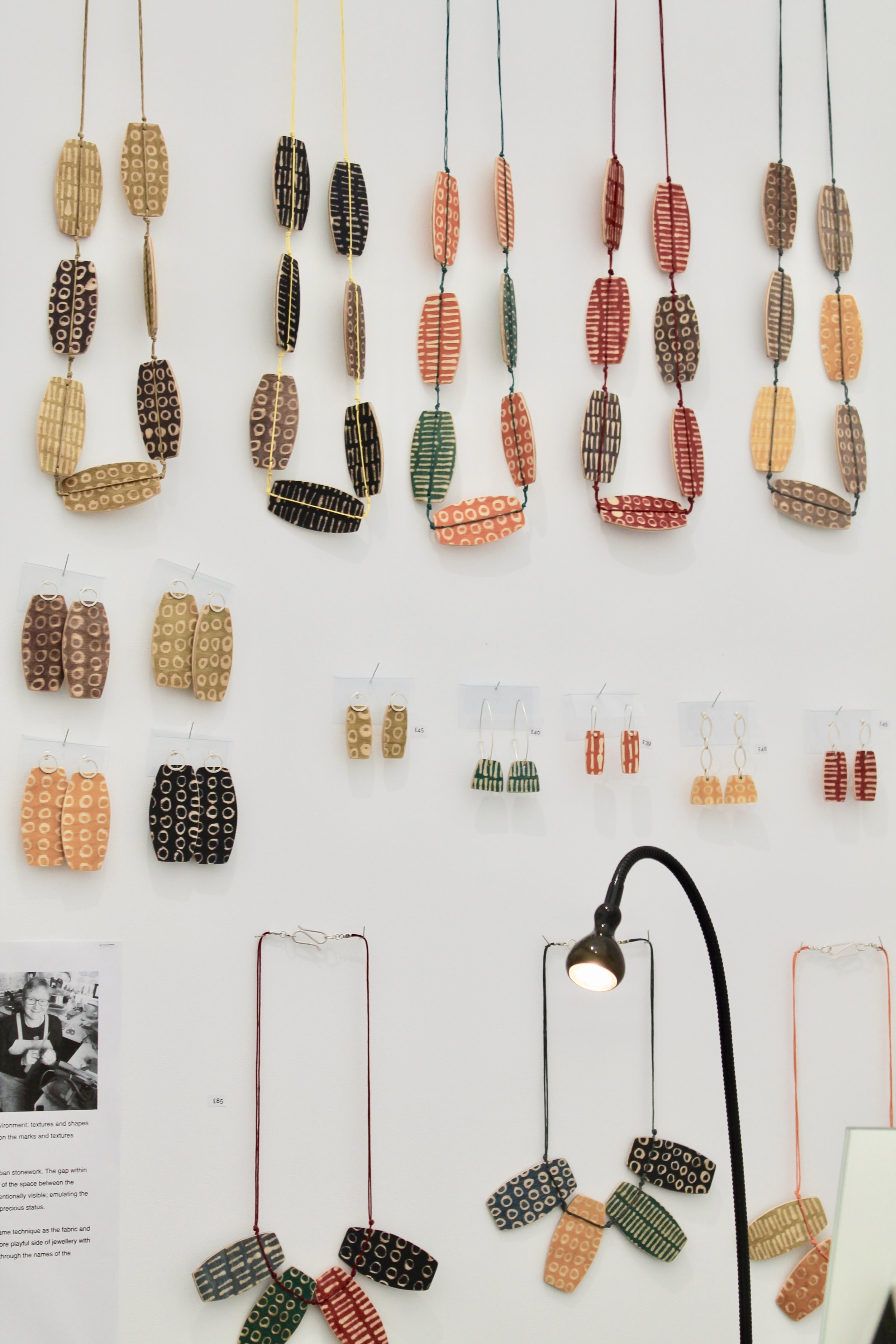 Artist Michele Daykin displayed her texture-inspired pieces at the Fair.
As a rambler, I'm immediately attracted to the artists who are inspired by the Scottish highlands. How can you not be moved by its rugged landscape, stormy skies and deep valleys, all rooted in a film where a ripped Mel Gibson shouts for freedom? Roberta Pederzoli captures her walks through the moors in her jewelry.
Eileen Gatt prefers to detail the creatures that roam the Isle of Skye.
If nature gives you dreaded flashbacks to having to analyse English poets in high school, then lets move on to science. How about we take a look at the skies? Fascinated by the galaxies is London-based Baraba Spence. Her rings look like fields of stars.
On the other spectrum of science is Dominika Kupcova, created necklaces out of DNA inspiration. Talk about matching a necklace with a cool pair of genes. Pun intended.
Still not excited by the countryside or chromosomes? You're hard to please. Maybe you're a bit lost. Luckily there's still a stall for you.
Inspired by things lost, as well as unwanted items, is upcoming artist, Katy Fletcher.
Watch how that rusty pair of earrings you showered in last week can be transformed into a contemporary piece of art. Katy plays with the shades of rust, mixing it in with neon and funky patterns. And if you're not already tuned in, this autumn is all about wearing neon colors.
I leave the Handmade in Britain marquee refreshed. More than just jewelry, I feel like I was just at a modern gallery. I'm a bit mind-boggled. I look down at my plain silver bracelet, which all of a sudden seems like the dullest thing I've ever seen. Maybe I should go back in there and see if there's a sale.
Article by Claudia Esnouf
With a multi cultural upbringing and a love for travel, Claudia scours galleries and art exhibits in Scotland and the UK in search of surprising jewellery and art. Her style influencers are the Duchess of Cambridge, Blair Waldorf and her Mum.
Image Credits: Claudia Esnouf, Katy Fletcher, Eileen Gatt, Quinta Essenza and Visit Scotland.