Beautifying your body: jewelry or tattoos?
London is full of surprises. Last Sunday, I found myself at a tattoo convention. I was probably sticking out like a sore thumb. Strangely, I did not feel out of place.
tattoo lovers are incredibly accepting, inclusive and laid back. Young, old, thin, fat, of all colors, shapes and background, tattoo lovers do not discriminate.
For sure there were some eye popping body displays of full-on tattoos. Not always pretty but the artistry forces the admiration.
Forrest, a 6'5" handsome mature artist, gave me a 5-minute lecture on the why of tattoos. From gaining acceptance into a gang (his case) to a declaration of love, mourning or marking a life event. He can remember his first tattoo but won't tell me what it is. Inking a tattoo is a deeply personal decision, and respecting one's privacy is central to the culture.
I got the sense that it is both about relationships and self beautification. Just like jewelry, it binds you to someone, somewhere, some time, some place. It is also about feeling beautiful, projecting an image of yourself that makes you feel good. Drawing was invented before writing and jewelry was worn before clothing.
But unlike jewelry, it is a permanent testimony to the celebrated relationship. As Forrest noted, "it's a commitment. For some people, it takes over their life."
Tattoos in Japan are extremely elaborate both artistically and culturally. Initially created by the working class to express their individuality against the repressive Tokugawa government, they shifted to a form of beautification that carried religious and magical meaning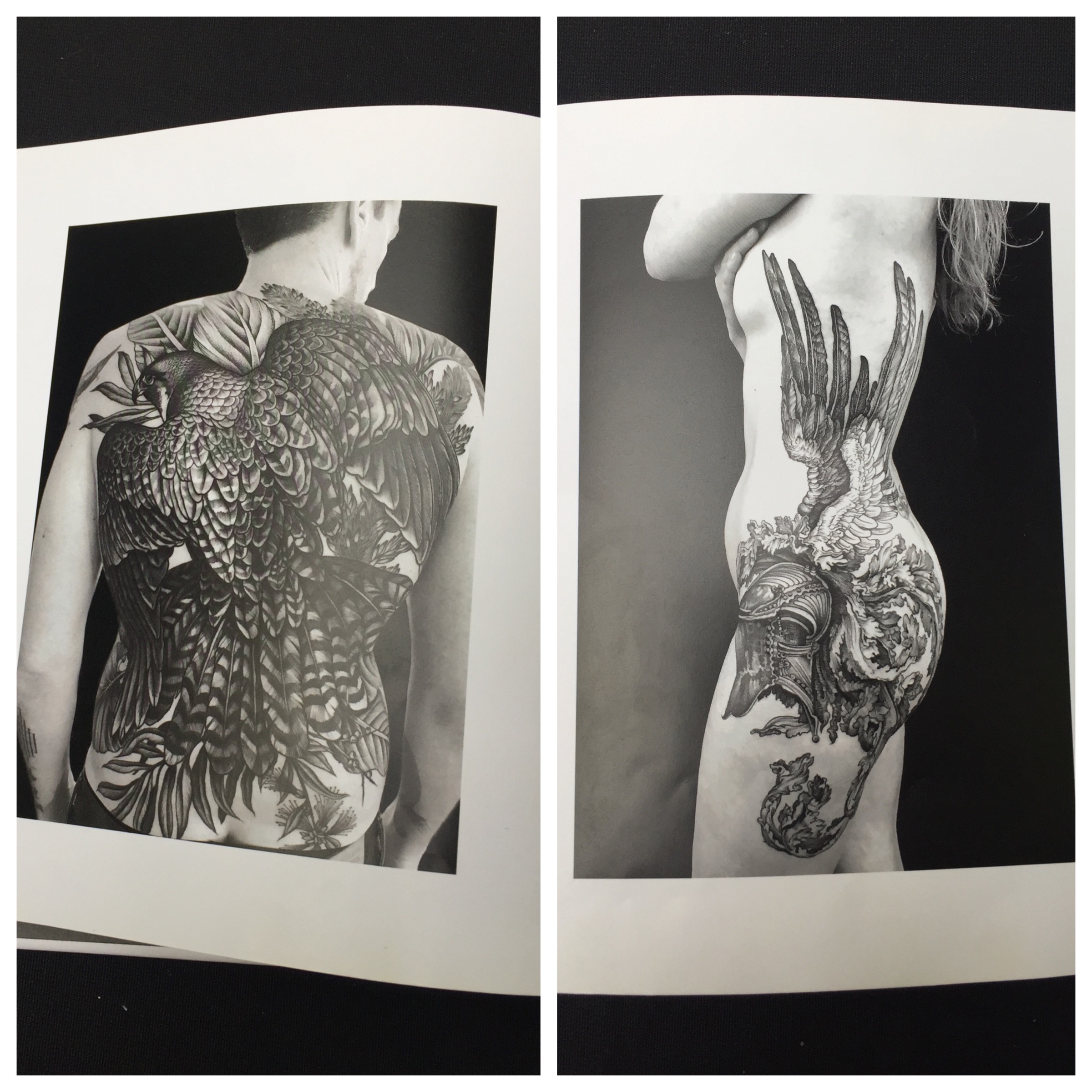 My favourite artist was Maud Dardeau who started her career as a painter and then applied her art to tattoos. She only uses black ink and the book of her pieces demonstrated much poetry and tenderness. She is inspired by masters such as Gustave Dore and Albrecht Durer.
The majority of the pieces on display were extremely violent. I wonder if it perpetuates the prejudice much of society holds against tattoo wearers.
Model Sabina shows off her tattoos.
Discovery No2: as in all arts, there are different schools, styles, studios. The symbiosis between the wearer and the artist determines the success of the piece. Almost all of the work is bespoke and starts with drawings. Over several meetings, the artist will elicite his or her vision from the wearer and ink it on the body.
A friend remarked that people collect tattoos like others collect paintings. Instead of hanging it on the walls of their house, they permanently ink it on their body. Is there a better homage to art than that?